SHOPWARE AGENCY FOR PERFECT API INTEGRATION
Shopware is fully open source, which means we can integrate any external system you may need to optimize the efficiency of your company's internal operations.
With the Connector for Shopware REST API interface, we enable you to connect multiple separate systems (such as ERP, SaaS, CRM, REST API based marketplaces or other sales channels) with your online store and achieve joint optimization results. With this in mind, an effective Shopware API interface is a must on the road to success.
We develop individual interfaces for article import, customer data import and order data import. Data exchange can be done via WSDL, XML, CSV, REST, SOAP API interfaces.
We bind the worlds
SOAP (Simple Object Access Protocol)
XML (Extensible Markup Language)
REST (Representative State Transfer)
WSDL (Web Services Description Language)
CSV (comma-separated values)

WE MAKE YOUR DATA AVAILABLE EVERYWHERE
If you need Shopware ERP, Shopware Wawi or Shopware PIM interface created to enable data synchronization with your website or online store, we will develop a custom plugin for you with the highest effectiveness. We will program the custom plugin according to your processes and needs and in such a way we will take care of the smooth digitalization of your business.
Advantages of API Integration
API connection plays an essential role for a constantly growing and successful entrepreneur. Year by year, the number of web platforms that pose a great interest for the business and could be used with the online store is increasing. With the help of these web platforms, businesses can better track data, collect customer information, receive payments, ship items and much more. Most platforms are cloud-based, which makes them cost-effective, portable, and syncable with many devices. Although it's relatively easy to get these web platforms to communicate with your website, specialized integration is required to ensure that data exchange goes well and is oriented toward optimizing your business operations.
YOUR BENEFITS AT A GLANCE
Individual approach to your processes and requirements
Secure synchronization
Fast expandability due to modular structure
Shopware store connection with ERP, CRM, PIM Wawi
Connection with online marketplaces (such as Amzon, eBay, Idealo atc.)
Simplified business processes
Low maintenance effort
Excellent quality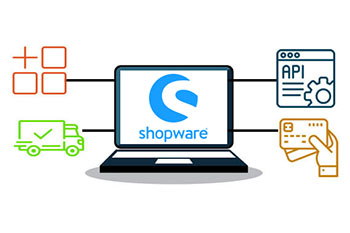 WEBIPROG IS YOUR SHOPWARE PARTNER AGENCY FOR API INTEGRATION
WebiProg is your partner and expert who understands the digital worlds and specializes in connecting them to optimize your company's business operations.