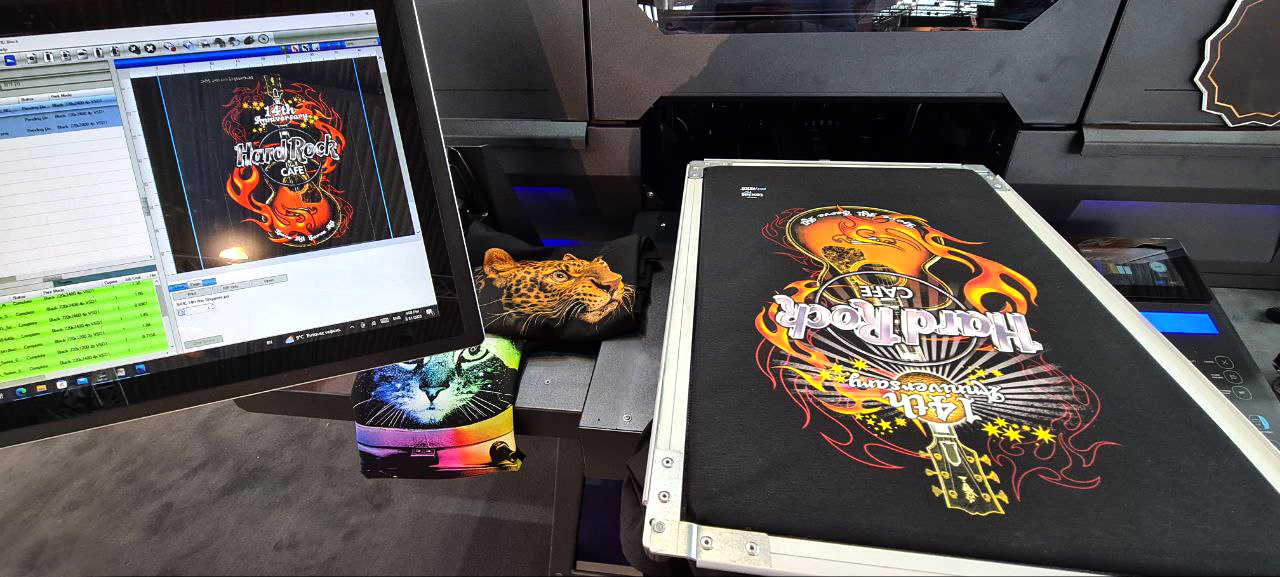 Welcome to the world of textile decoration! Do you want to open an online shop specializing in textile decoration such as embroidery and textile printing? Then you've come to the right place! We offer a professional online shop software that allows you to fulfill your dream of a successful online shop for textile decoration.
Our software is specifically tailored to the needs of businesses engaged in textile decoration. Whether you want to print or embroider clothing, fabric products, or other items, our software equips you perfectly. We provide you with a user-friendly interface and a variety of features that allow you to sell your products easily and quickly.
Do you want to offer your customers the ability to upload their own designs? No problem – our software supports this feature as well. This way, you can ensure that your customers are always satisfied and stand out from the competition.
Start today and open your own online shop for textile decoration. With our online shop software and your expertise in textile decoration, you will quickly achieve success and make a name for yourself in the industry. We look forward to accompanying you on your path to success!
Efficient and Successful in Online Wholesale for Textile Decoration: The Essential Features for Clothing and Sports Trade
In wholesale for textile decoration, certain features are particularly important to meet customer demands and ensure efficient workflows. Especially in clothing and sports trade, you need to focus on fast and efficient order processing. Here are some of the key features we have considered in our online shop software for textile decoration:
Design Tools: In the textile decoration industry, it is important for customers to be able to upload and customize their own designs.
Order Management: An effective order management system is essential to ensure that orders can be processed quickly and accurately. Automated order management greatly facilitates the work and minimizes errors.
Inventory Management: Good inventory management allows you to keep track of your stock and ensure that you always have enough products available to meet your customers' demands.
Customer Management: Effective customer management allows you to manage your customer relationships and simplify communication.
Supplier Management: Effective supplier management allows you to manage your relationships with suppliers and ensure that you receive the best deals.
Overall, a successful shop should not only be user-friendly and appealing but also have a variety of features to convince customers.
In our software with the design tool, we have placed special emphasis on the ability to generate a preview of the printed or embroidered product. This gives your customers the opportunity to review their design and ensure that it meets their requirements before placing an order.
Furthermore, our online shop software for textile decoration with printing and embroidery options allows the selection of various sizes and colors for each product, ensuring that every customer finds the perfect product for their needs.
Our services go beyond the development and design of online shops. We attach great importance to ensuring that our customers receive a comprehensive solution that also ensures good visibility in search engines. Therefore, we have programmed the online shop software for textile decoration to be SEO-friendly.
A good SEO strategy is crucial to ensure that your shop is found in search engines like Google. We have made sure that relevant keywords are used in your product descriptions and that your website is optimized for mobile devices to improve user-friendliness.
Our goal is to help our customers succeed in e-commerce and stand out from the competition. Good visibility in search engines is an important factor for success in online trade. We support our customers in developing and implementing a tailored SEO strategy to increase their visibility in search engines and reach more potential customers.
If you want an SEO-friendly online shop that is optimized for mobile devices, WebiProg GmbH is the right partner for you. Contact us now to learn more about our services in SEO optimization and online shop development and together develop a tailored solution for your shop.
Design Your Product Individually: A Look at Our Innovative Design Tool
The design tool is also known as an article designer or product configurator.
A good online article designer is essential for any successful online shop in the textile decoration industry. Especially in embroidery and textile printing, it is important for the online designer to offer a variety of functions to create individual designs. Some of the key features of our online product configurator include:
Templates and Designs: Our online designer offers a wide selection of templates and designs that customers can use as a starting point for their own creations. These can be available in various categories such as sports, leisure, profession, etc.
Text Tool: The designer provides a powerful text tool that allows customers to add their text in different fonts, colors, and sizes.
Image Upload: The designer offers the option to upload custom images and integrate them into the design. These images can be logos, graphics, patterns, or photos.
Color Selection: The designer provides a wide range of colors to ensure that customers can perfectly customize their designs to their needs.
Preview: A preview function is a must so that customers can review their design before making a purchase. The preview is available in high quality and from different perspectives.
WebiProg GmbH – Your Reliable Partner for Developing Successful Online Shops for Textile Decoration
When choosing a web agency for developing a successful online shop for textile decoration, there are several important factors to consider. A good web agency should have experience in developing e-commerce solutions and specific knowledge in the field of textile decoration. Comprehensive SEO optimization and a good user experience should also be a focus.
Additionally, it is important for the web agency to have a transparent working method and provide regular progress updates to the client. Open communication is crucial in this regard.
Another important aspect is the flexibility of the web agency. Online commerce is a rapidly changing environment, and a good web agency should be able to quickly adapt to changes and adjust the online shop accordingly.
We, WebiProg GmbH, are an experienced Shopware agency from Nuremberg with comprehensive expertise in developing online shops for textile decoration. We prioritize a transparent working method and regularly keep our clients informed.
Our team of professional Shopware programmers places great emphasis on high quality and an appealing user experience. We develop our solutions flexibly and adapt to the rapidly changing requirements of online commerce.
We take pride in offering our clients a tailored and holistic solution for their online shop, including the development of innovative product configurators and comprehensive SEO optimization.
If you are looking for a reliable and experienced Shopware agency to develop your successful online shop for textile decoration, then WebiProg GmbH is the ideal partner for you. Contact us now, and together we will develop a tailored solution for your online shop.