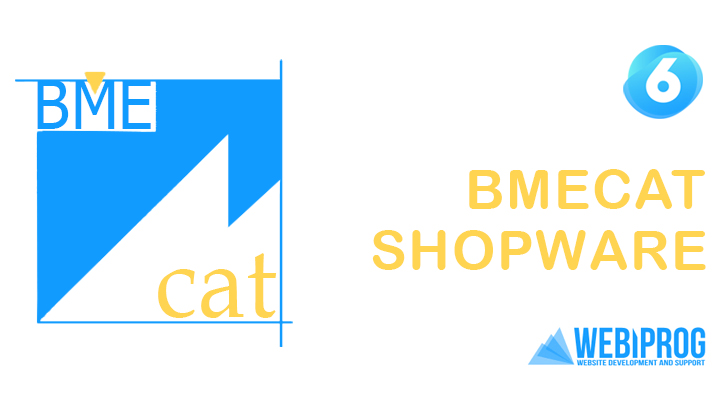 BMEcat stands for "Buyer's Guide to the Management of Catalogue Exchange" and is an internationally recognized standard format for exchanging product catalogs between companies. It was developed by the Federal Association of Materials Management, Purchasing, and Logistics (BME) and is now an important standard in electronic procurement.
BMEcat allows companies to capture and exchange their product data in a standardized, structured format. In addition to product descriptions, information such as prices, delivery times, order quantities, and availability is also captured. By using BMEcat, companies can optimize their procurement and sales processes, as they are able to process catalogs automatically and update data quickly and easily.
BMEcat is used in various industries, including electrical engineering, mechanical and plant engineering, medical technology, construction, and textiles.
Shopware and BMEcat
Shopware is a well-known e-commerce platform that allows companies to create and operate online shops. By integrating BMEcat into Shopware, companies can offer their customers a comprehensive B2B purchasing experience.
By integrating BMEcat into Shopware, companies can optimize their ordering processes and introduce automations that save them time and money. For example, BMEcat enables companies to create price lists for individual customers or customer groups based on quantity discounts, to meet customer requirements.
The integration of BMEcat into Shopware also enables companies to simplify the purchasing process for their customers by offering a fast and easy checkout process tailored to their needs. Customers can easily manage their orders, view their order history, and track their payments.
In addition, the integration of BMEcat into Shopware can help companies optimize sales and marketing by sending personalized offers and promotions to individual customers or customer groups. Companies can also gain comprehensive insights into customer behavior and business processes to adjust their business strategy accordingly.
The integration of BMEcat into Shopware offers companies a powerful B2B e-commerce solution that helps them better serve their customers, optimize their business processes, and increase their revenue.
If you want to import your product information into Shopware, you can use BMEcat files to import your product data from another system into Shopware. We offer a ready-made BMEcat import plugin for Shopware, which you can install in your Shopware shop.
The data exchange between Shopware and a Business-to-Merchant (B2B) e-commerce shopping cart solution depends on the specific platform you are using. However, there are generally three ways in which data exchange can take place:
API integration: Many B2B platforms offer Application Programming Interfaces (APIs) that allow data to be exchanged in real-time between systems. You can set up an API integration between Shopware and the B2B platform to automate data exchange.
File import/export: Another approach is to exchange files between systems. You can use a file import/export interface to import and export data from Shopware to the B2B platform and vice versa.
Middleware: Another option is to use middleware between Shopware and the B2B platform, which acts as a bridge between the systems. The middleware can synchronize data in real-time or through file import/export between the systems.
The Shopware BMEcat plugin we offer enables exchange via file import and export.
The perfect combination for a successful B2B online trade – Shopware and our BMEcat plugin
Boost your B2B business with Shopware and our BMEcat integration. Shopware provides a flexible and user-friendly e-commerce platform designed specifically for B2B companies. With the Shopware shop, you can easily sell your products, manage your orders, and provide your customers with a personalized experience. Our BMEcat plugin is seamlessly integrated into Shopware, allowing you to effortlessly automate the data exchange between the two systems.
Our BMEcat plugin for Shopware makes it easy for you to integrate BMEcat into your shop. You can configure the export format, export frequency, export file location, and much more. After filling the shop with product data, you can perform BMEcat export with just one click.
By integrating BMEcat into Shopware, you can not only save time but also speed up the distribution of your products and gain new business partners. With our BMEcat plugin for Shopware, you benefit from fast and easy integration, flexible configuration, and reliable performance.
Connect BMEcat to your Shopware shop now and open up new opportunities in electronic procurement!
As a Shopware agency, we are convinced that Shopware and our BMEcat plugin are the perfect combination to take your online trade to the next level. Try it out today and experience the difference our integration can make for your business!