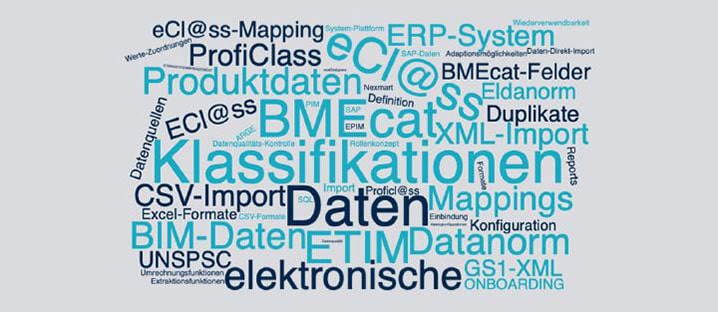 BMEcat XML import interface for Shopware
If you want to simplify and standardize the exchange format for product catalogs between manufacturers or wholesalers and your store, sooner or later you will have to think about suitable standard formats. BMEcat is an XML-based standard for the transmission of electronic product catalogs. The format enables the standardized exchange of catalog data and allows a fast adaptation of complex products and different product groups.
BMEcat as a catalog for Shopware
The XML BMEcat format was developed to standardize the exchange of information about products. Product information can refer to data that is generally available in catalogs. Therefore, BMEcat files are also referred to as "catalogs". Catalog data includes technical specifications, text descriptions, price orders, and packaging information, as well as multimedia information such as photos, drawings, certificates, product cards, safety cards, etc. Together with the product data, it is also possible to submit a complete file for classifying products or providing information about the classification system used.
In order to standardize the exchange of information, BMEcat enables the automation of data exchange. To create a BMEcat format, the Universal Markup Language (XML) was used to represent various data in a structured way. As an XML file, the BMEcat catalog is not suitable for humans, but it is ideal for computer communication. Moreover, XML is platform-independent and allows easy data exchange between different systems such as ERP, PIM or XML-based systems.
BMECAT INTEGRATION WITH SHOPWARE
WebiProg as a Shopware agency for the connection of XML-based systems offers a perfect and simple embedding of product data on a plugin basis with respect to BMEcat standards and enables the transfer of customer-specific electronic catalogs from different data sources.
Thanks to BMEcat integration, you now don't need to read manuals to ensure smooth BMEcat import into your online store.
XML interface and BMEcat
The universal XML BMEcat Shopware plugin represents by itself a clear and self-explanatory import interface and offers you a rather simple operation. If you want to extend the plugin to your ideas, we guarantee a quick adaptation to the respective data sources with further data optimization during the plugin extension. This guarantees you the saving of the effort and keeps the costs for the extension of the XML interface optimal.
Features of the XML plugin based on standard XML technologies.
As your Shopware partner agency we care about your comfort:
-Powerful performance
The BMEcat plugin takes on a large product dataset without a huge load on your server.
– Simple and intuitive usability
The intuitive plugin interface allows you to make settings quickly and monitor the complete import process.
– Checking the product data
Thanks to the check function, the existing products are updated and new products are created in the system.
– Flexibility to match new product fields
If there are new fields detected during XML import, the plugin offers you the possibility to link the new XML fields with the fields from the database.
– Embedding of product properties and features
The plugin takes care of embedding new values for product properties as well as new product features into the database.
– Error messages
The error message area informs you which products have been included and which have not.
Our team of Shopware experts and professionals will be happy to advise you and answer your questions.