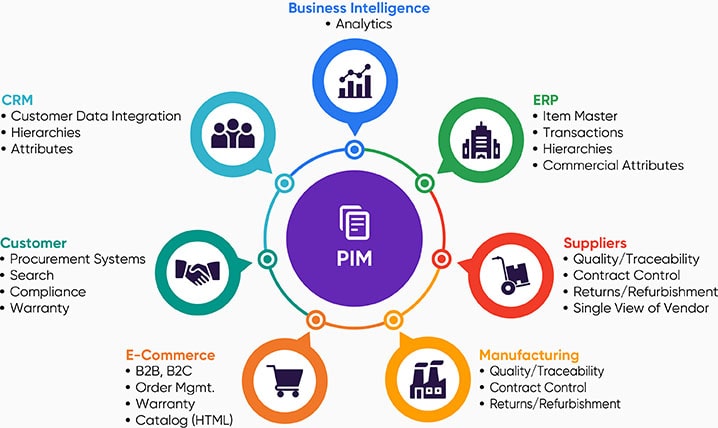 PIM CONNECTOR FOR SHOPWARE
If you run a Shopware online store, you probably know the difficulty of continuously maintaining an ever-growing list of SKUs. As your business grows, so does the list of product data and product descriptions that always need to be updated.
Over time, this product data can quickly become unmanageable. If, for example, you are a wholesaler or manufacturer and open up new interaction channels or target groups, you often have to adjust product info and prices. And when new suppliers are added, product catalogs and descriptions also need to be updated.
Manually processing product information is a lengthy and expensive process. Without a cohesive system to coordinate data exchange between your sales and marketing teams, it can be difficult to speed up product edits. You also face the real risk of sharing incorrect or outdated information with consumers.
However, thanks to PIM Connector for Shopware (PIM: Product Information Management) you can speed up and simplify this process. PIM collects product data from every channel and allows your team to edit all product information directly in PIM, without having to use other third-party platforms. Shopware connectivity with PIM is a must for modern and demanding B2B and B2C companies that always want to keep their product data at the high level and edit it quickly.
CREATE PIM INTERFACE FOR SHOPWARE
It is important to make the right choice for the PIM system that can be integrated with Shopware without any headaches. We as Shopware agency develop Shopware interface for PIM and enable synchronization from PIM to Shopware.
What information management does the PIM system enable?
A strongly developed information architecture is very essential for the successful management of a large catalog of product data and part numbers. The PIM system meets these very requirements by capturing the following cross-functional product information:
Basic information
Probably the most obvious information that PIM systems capture is data directly related to the products themselves. This data can include universal product codes (UPCs), SKUs, as well as product names, titles, and miscellaneous information.
Media
Most consumers don't buy a physical product without seeing a picture or video of it first. PIM software can store digital images, videos, gifs and other elements.
Technical information
Remember when you bought a T-shirt. Before you added it to your shopping cart, you probably considered the fabric, size, and color. All three characteristics can be stored in a PIM system, as well as more complex information such as weight, measurements, and warranties.
Marketing information
Marketing data can include customer personas, keywords, and other SEO-related data such as Google categories, mobile-friendly descriptions, and Amazon titles. This data often needs to be updated over time, which is much easier with a PIM.
Sales information
PIM systems store pricing information, customer reviews, and testimonials that can be used during the sales process or advertised on a company's website.
Localized information
Companies operate locally, regionally and globally. As a result, they need product language and descriptors tailored to specific locations. PIM systems include multilingual content, regional currency systems, and anything else that can help ensure a consistent, seamless customer experience.
Taxonomy
Products are often purchased as bunches or variants. The PIM software catalogs variations, links and categories that make up the whole product structure.
Design Information
What appeals to consumers most is how a product is displayed and how it fits with the rest of the company's brand. PIM systems include style guides and designer notes to ensure marketing campaigns have relevant creative direction.
Emotional information
A personalized experience should create an emotional connection with the customer. PIM solutions can store content that resonates with specific customer personas, including images, product descriptions, and other targeted assets that foster emotional connections with shoppers.
PIM INTEGRATION WITH SHOPWARE
WebiProg as a Shopware expert integrates your PIM system with Shopware and programs the interface for the export/import of the following data:
Synchronization of the manufacturer data
Synchronization of categories and sub-categories
Synchronization of product data
Synchronization of product images
Synchronization of product prices
Synchronization of product variants
Synchronization of cross-sell and up-sell products
Synchronization of product options, product features and product attributes
Synchronization of product descriptions incl. multilingualism
Automatic and manual linking of entries